Agility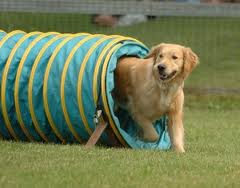 We don't have a specific class for teaching agility, mostly due to a lack of a suitable venue. We do however run some fun sessions in the summer, and we do use agility equipment in our higher level classes.
We use equipment as its fun for both dogs and handlers, but also to teach dogs improved self-control, as well as teaching important extended skills such as directionality and named articles.
We have had some handlers enrol with us because they want to clicker train their dogs to take part in agility, or to be working with their dog in the meantime as most local agility groups have a lengthy waiting list.
For us, it's not about how high your dog can jump, or how fast he can complete the course, it's all about what he learns and how this translates to everyday dog ownership….