Dogs Naturally training for nervous & fearful dogs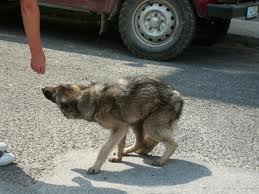 Does your dog…
• Cower behind you or back off rapidly?
• Tentatively approach dogs/people/new things and only when they are not being looked at?
• Bark and throw themselves forward when dogs/people/animals etc approach?
• Shut down when they get scared – they get quiet and still and then 'freeze' in place and you cant seem to reach them?
• Act quiet and still but stare at the thing they are scared of, then explode in a frenzy of barking and snapping?
• Go crazy when another dog looks at them?
• Even bite or attack other dogs?
These can all be seen signs of fear and inability to cope and it is vital that you know how to work with this dog to help manage and address their behaviour…
Why are dogs fearful?
 Some dogs may be nervous by nature, or by breed….

Small breeds can be nervous, some dogs are 'highly strung' and become anxious easily, some are poorly socialised and therefore lack the social skills and confidence to know how to interact…

Some rescue dogs may have been traumatised and become nervous and anxious as a result – possibly through bad or abusive handling or neglect…

Nearly all dogs can be nervous at times in a given situation – maybe when they meet a loud vehicle for the first time, or from fireworks or thunder – but confident the rest of the time…
Its ok – just keep making them do it…
The 'traditional' approach has always been to keep exposing the dog to something it is afraid of, based on the theory that eventually it will 'get over it'. This is true to an extent and is based on the principle of 'flooding' – overwhelm the dog with a specific stimulation (such as loads of others dogs or traffic) and it stops reacting. In our experience this takes a long time and is often unsuccessful and frequently reinforces the fear…
Why do they need a different approach?
Basically, because one strategy of working with one individual dog simply does not fit all dogs. Taking the same strategy you may use with a confident, extrovert dog will simply not work with an anxious, fearful dog. If anything you will make it all worse…
Really?
There is science behind this – when you look at dog neuropsychology (the relationship between the brain and behaviour) there is clear evidence that a dog who is 'emotionally reactive' (reacting using the sympathetic autonomous nervous system which regulates heart rate, blood pressure and prepares the body for activating adrenaline and a rise in blood sugar) literally cannot think it can only react to the stress. Only a dog which is reacting under the parasympathetic nervous system (which oppose the sympathetic system) can be stable enough to be able to think.  This means that your stressed dog who is reacting to fear cannot calmly think about and learn from his actions. He is literally fighting for his life – under the fight, flight, freeze mechanism.
If you want to know more about this, we suggest reading James O'Heares book Canine Neruropsychology (it's a bit technical but really interesting).
What do we offer instead?
We have developed a model of identifying your dogs 'dogenality' which allows you to apply the correct strategy to help a dog who is fearful – either by nature, experience or in a given situation. This is based on the 'Horsenality' model developed by Pat & Linda Parelli to whom we give full credit for the concept. This 'dogenality' model is proving hugely successful in helping fearful dogs to become more confident, and equally importantly for you to know and understand what to do when he gets scared.
Fearful Dog Programme
This is a programme of work we have which you can use to begin addressing your dogs fears. It provides information on how to identify the body language of fear and the strategies to use to help your dog move gradually from fear to becoming more confident. It looks at keeping the dog 'emotionally stable' so that he can learn and think.
This programme can be undertaken on a distance basis (if you are not in the East Kent area), or through either 1-1 visits or class work, depending on the level of fear and anxiety your dog has.
Call us now to discuss your dog and see how we can help you….