Puppy socialisation and training
Covid update: at present tier 4 restrictions prevent us from running our usual face to face classes.  These are currently offered online – with a weekly email of activities, along with handouts and video links. Also included is a weekly 15 minute video call for individualised support and advice.
This is currently a 6 week rolling programme so you can join when you are ready by clicking here

Puppy Crèche – for before your puppy completes their vaccinations
This runs alongside our pre-school and is aimed at puppies who are able to be carried out and about, and have had their first vaccination but not necessarily their second jab.  This enables your dog to be carefully habituated with the outside world, allows you to watch and listen to what goes on in the pre-school class and gives you access to one of our trainers who will be able to answer any questions you may have.
You can sit with your puppy on your lap and listen and watch the rest of the class and then go home and practise so no time is wasted.
All pups must be carried in and out to the class.
---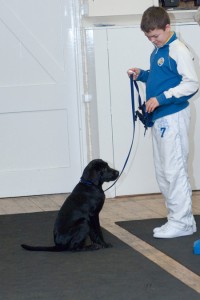 Puppy Pre-School 
This is a 6 week rolling term which you can join once your puppy is ready (space permitting).  Any puppies who have joined the puppy crèche have an allocated space in this group. These classes are suitable for any dog up to the age of approx 5m (depending on size and any issues) and are suitable for most rescue puppies. Each class is 45 mins long.
This class may not be what you initially expect! The content of these classes is informed by what is usually missing when I see dogs with difficult behaviours – often a lack of ability to be calm, to listen, to ask and be connected to the owner. This is not an off-lead play session – this is all about building future proof skills for you and your puppy.  Each session includes time to build socialisation skills week on week.
The course consists of:
Teaching calm behaviour – skills that are built on over the term

teaching the puppy to 'check in' with you and using this to see if your puppy is attentive or distracted

teaching nose work to calm and settle your dog – as well as have fun!

walking on a loose lead – this is taught over a number of weeks since it is a tricky skill for your dog to learn!

Recall – and other skills which support a recall

learning about body language, frustration behaviours and why your dog 'ignores' you

Addressing and solving common behaviours like jumping up, stealing, refusing to give up a treasure and mouthing/biting

Preventing separation anxiety and resource guarding

Food manners
This course has weekly lessons and handouts, including video links so that if you miss a week for any reason, you can be sent this so you don't ever miss a class!
We teach how to read how your dog may be feeling – but download this great app which shows in pictures what your dog is feeling – some of them are pictures where a dog is mistaken for being happy (and he isn't). Download and share especially with children. Dog decoder app
---