Puppy socialisation and training
Puppy Crèche – for before your puppy completes their vaccinations
This runs alongside our pre-school and is aimed at puppies who are able to be carried out and about, and have had their first vaccination but not necessarily their second jab.
This enables your dog to be carefully socialised with the outside world, allows you to watch and listen to what goes on in the pre-school class and gives you access to one of our trainers who will be able to answer any questions you may have.
You can sit on the stage, or on the main floor with your puppy on your lap and listen and watch the rest of the class and then go home and practise so no time is wasted.
All pups must be carried in and out to the class.
---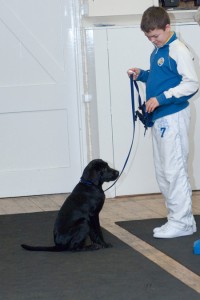 Puppy Pre-school
This is a 8 week rolling term which you can join once your puppy is ready.  Any puppies who have joined the puppy crèche (see above) are given priority places in this group.  Any dog older than approx. 20 weeks will need to join our beginners class, unless your older puppy needs more work on their socialising skills.
We teach careful socialisation – confidence building for the scared and self control for the bouncy! Dealing with puppy problems – house training, jumping up, biting, teaching your pup to be left alone and most importantly how to get your puppy to come back from playing!
The class is 45 minutes long. The first 15 minutes are for puppy socialisation (carefully supervised) and the next 30 minutes are for more formal aspects of learning.  Our course aims to cover the content of the APDT Good Companion Awards (see www.apdt.co.uk) to ensure your puppy is as well prepared for the big, wide world as possible.
Please note that our classes get booked up incredibly quickly – usually within 2-3 weeks of a term starting, we are fully booked for the following term.
---