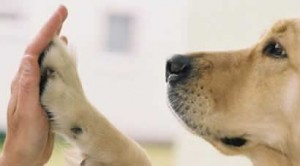 Way more than just dog training….
At Dogs Naturally our ethos is that your dog should be working in partnership with you -  using the underpinning  principles of  dog psychology, trust, consistency and responsibilities (for both you and the dog!).  Not the belief that your dog should do something because you say so, but because your dog wants to do it…
We offer so much more than just 'normal dog training'.  Sure we teach the usual dog training stuff… but we also teach you how to recognise what your dog is trying to tell you and most  importantly what strategies you need to use  in stressful situations.
We offer classes for every dog of every age, size and breed – from puppies, through wild crazy adolescents right up to a high level.  However, we also specialise in helping fearful/nervous dogs – and those dogs described as 'stubborn' or prone to selective hearing!  Normal dog training methods often don't work with these dogs – but our methods have fantastic results.  We teach you skills you need to have for real, everyday situations by using clicker training – a modern, kind, highly effective, reward based training method. Come along and see us in action…
Call or text: 07860 124 138 / 01304 619216 (mobile preferred please)